Watch our interactive demo of the edison365 suite:
The only end-to-end innovation and delivery
platform built for Microsoft 365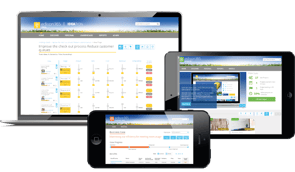 If you are looking to translate ideas into business value you have come to the right place. Here at edison365, we are passionate about Making idea

s pay and enabling organizations to achieve the full benefits of innovation.
Our platform bridges the gap between ideation and delivery, empowering you to drive the right ideas at an accelerated rate, while ensuring they are delivered successfully and the full value is realized, all within your own Microsoft 365 tenant.
In this demo, Ivan Lloyd, edison365 thought leader provides an overview of the edison365 suite and demonstrates how your organization can benefit from an easy to use end-to-end innovation and delivery tool that underpins your innovation efforts and focuses on delivering benefits.
In this session, Ivan demonstrates:
How edison365 democratizes innovation and enables you to harness knowledge at scale.

How you can align innovation against your organization's strategic objectives.

A standardized and transparent process for business case creation, so you can easily justify the value of every idea and only invest in those that will generate value.

How you can transform ideas into projects and ensure they are successfully delivered.

How you can easily report on your entire innovation portfolio in one place.

How you can leverage Microsoft 365 tools your employees are already familiar with, such as Teams, Yammer and Power BI.
Complete the form to watch the recording!
| | | |
| --- | --- | --- |
| Generate ideas aligned to your strategy | Evaluate their fit | Deliver with excellence |
Meet Ivan:
Ivan Lloyd

Chief Executive Officer, edison365

Ivan is the global leader for our business and is a respected expert in innovation delivery, project management excellence and business case justification. He helps our clients drive innovation into their core business processes and deliver projects that provide value to their organization.
Looking for a one-to-one demo?
Feel free to get in touch today to organize a complimentary discovery call and one-to-one demo. One of client engagement consultants will explore your organizational goals for innovation management and understand how our suite of products can support you.